This month, I discovered so many amazing things. Much of it beach inspired, as we took a lovely vacation to Miami.
Here's the LC short list of things that made June fabulous and why you'll love them all.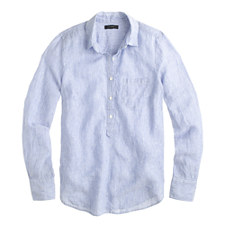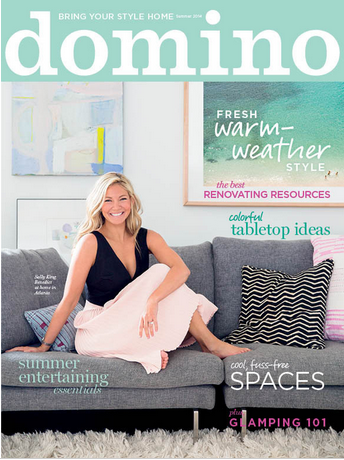 Attention! THROW OUT ALL OF YOUR HAIR SPRAY because all you need is Oribe. I finally got my hands on a few of these fantastic products (the hype? I get it, I get it!) Seriously, this stuff makes the hair do amazing things. The best part is that you can use it on wet or dry tresses. And since I'm a no styling type of girl, this had my name all over it. Beach waves on demand, baby.
I've been wearing this top nonstop. And it's perfect for the warm weather- so light and airy. I like it because it's classic in material (linen) and style (menswear inspired) but updated with the popover style. I wore it to dinner and paired it with ecru jeans in Miami. And I keep wearing it at home, too. LOVE. *It seems this top has now sold out... not surprised in the least!
I'm a loyal cat-eye girl but after 4 years of my beloved Ray-Bans, I was ready for a change. Mr. Wonderful got me these sunnies for my Birthday and I just started wearing them on the daily. You don't look like a bug- the size is just right! And they sit beautifully and comfortably atop my face. The tortoise is a nice, warm change for the warmer months!
I got this originally as my beach tote but I've bee using it as my regular bag since we returned from the beach! It just says summer all over it. It's a practical farmers market tote, too. All the market totes I've seen have incredibly small, short handles- so impractical when shopping- you need your hands free, know what I mean?! I won't want to put this one away come the fall!
Move over, Coppertone! This sunscreen oil is lightweight and moisturizing but not a bit greasy. It's such a breeze to apply- just spray and go. It looks quite beautiful on your skin, too. Glistening and protected (spf 50)? You bet. This is the modern beach girl's dream come true. It comes in a handy travel size so you can stash it away without weighing your bag down!
What's there to say about it? You know it's fabulous. One of my favorite magazines that I read cover to cover.
This suit is SO incredibly flattering. I'm no bikini girl but duh, I wanted something cute. And something that I'd feel comfortable wearing in public. This one from J.crew is a winner with its halter top, lovely neckline, and subtle and strategic ruching to conceal the tummy. This is the suit for anyone and everyone. Get it before it's gone!
Beach towels- many of them are thick and heavy, no? Of course they feel nice and cozy after a dip in the water but the kicker...? They never dry. And there's nothing worse than a cold, damp towel (seriously... why do you think they invented towel warmers!) to "dry off" in. I picked this up in Miami. It doubles, no triples!() as a sarong and even a large scarf. And I must say, my turkish towel looked awesome on my chaise lounge amongst a sea of plain white towels ;)